In Memory of Alan Kautz
We miss you!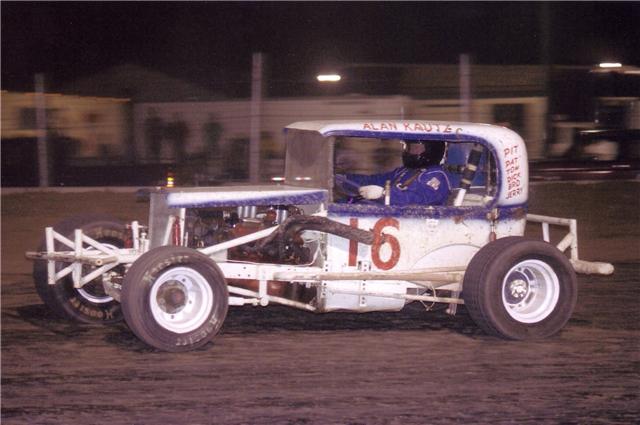 Alan drove his original 1932 Ford Sedan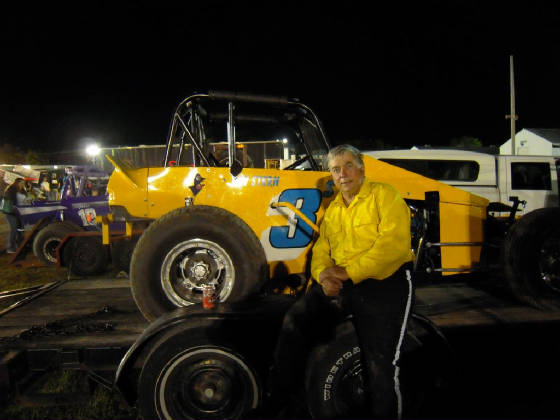 #3S Roy Stern Hustisford, WI
Age 68. Started racing in 2014 and ran the Super Modified class at the Plymouth race track.
I retired from the corporate rat race in 2003 to build log cabins and became a wildland firefighter with the US Forest Service.
Thanks to everyone who has helped me to get set up in the sport.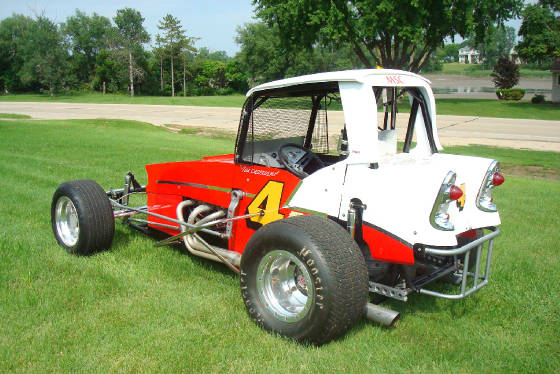 # 4 - Tim Dessereau Mayville, WI
KB Enticer chassis built in the mid-80's.
It was "found" again in River Falls, WI in 2010.
The back of the car is from a '56 Chevy rebuilt for this car by Dan Goode and Tim Dessereau.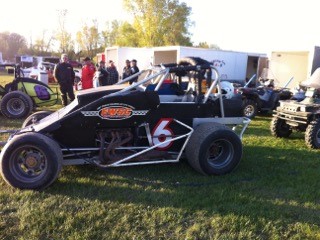 #6 Bob & Sara Brion, Plymouth, WI
Driven by Keith Anderson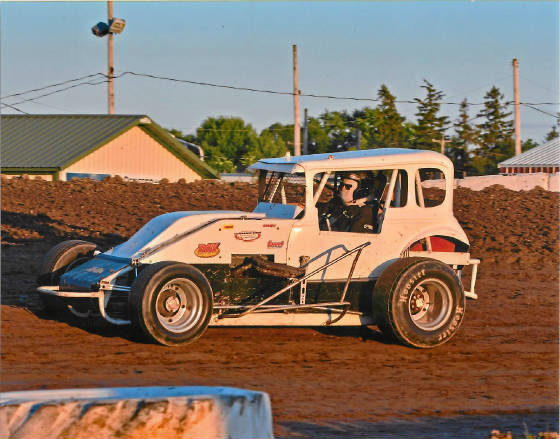 #7 Butch Mierendorf Waterloo, WI
This is a Pogo car.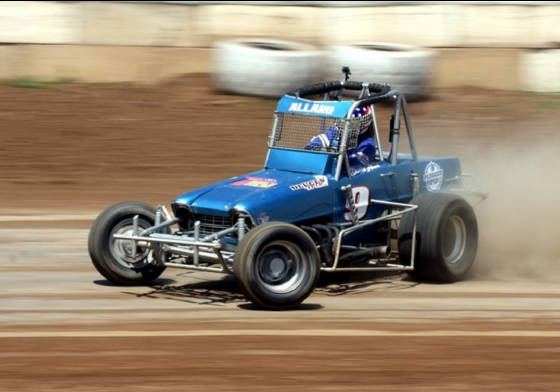 #9 - Darrin Allard - St. Francis, WI
1967 Chevy II Nova with an SBC 377 Engine.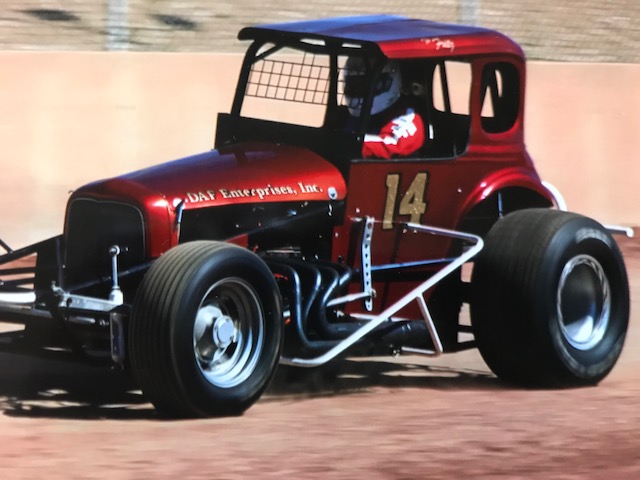 #14 DeWayne Fritz Kewaskum, WI
The car won the 2007 Eastern Wisconsin Track Championship. It was driven by Kris Hansen and built by Jim Watson.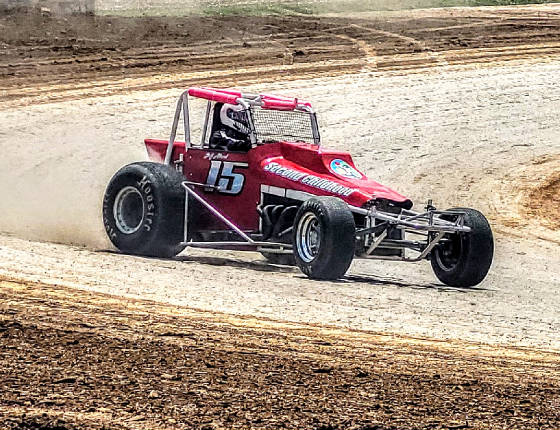 #15 - Jeff Allard - Oak Creek, WI
1979 Outhouse Engineering Super Modified.
Formerly driven by Gene Erdmann, among others.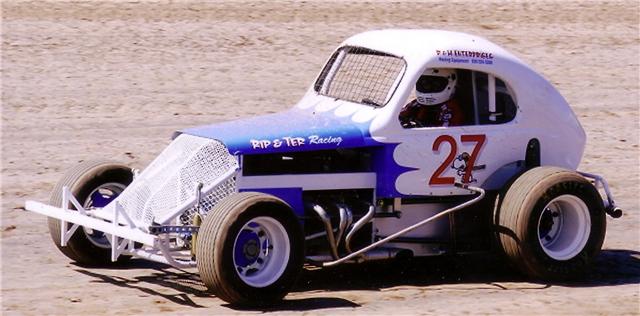 #27 Ralph Pulver Wyocena, WI
His 1940 Ford is
powered by a 327 carbureted Chevy engine
on an early 80's Czarnecki chassis.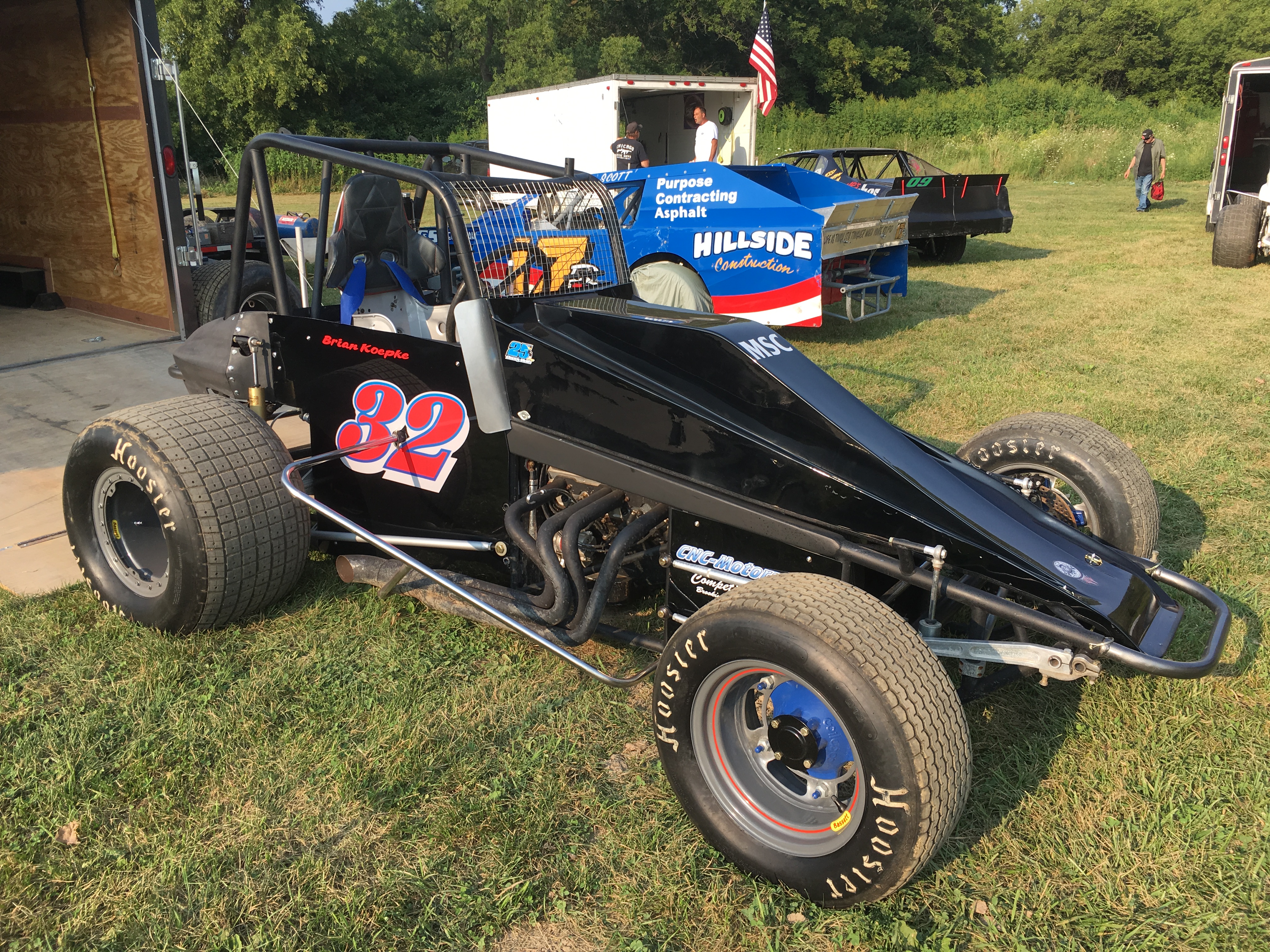 #32 Brian Koepke Mukwonago, WI
1984 Outhouse Engineering. Super Modified. Corvette body. 388 Hilborn injected Chevy Power.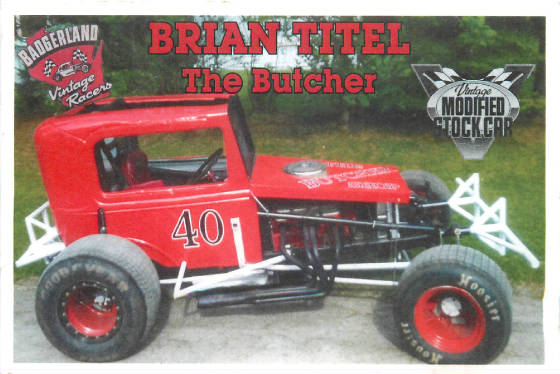 #40 Brian "Butcher" Titel Sheboygan, WI
Ford Model A Body and Frame.Chevy 350 Engine.
Sponsors: The Butcher Shop-Home of Vintage Mods & Street Rods; Debs Doll Dudz; Moose Lodge 438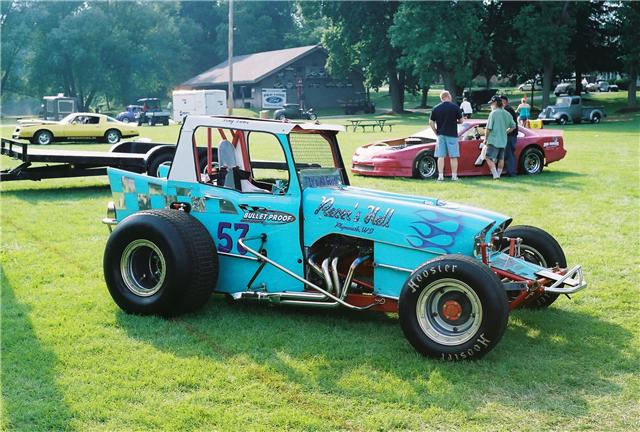 #57 Doug Drews Sheboygan Falls, WI
1957 Chevy modified painted turquoise and white. Runs a carbureted 355 Chevy engine.
Formerly driven by Gary Dye.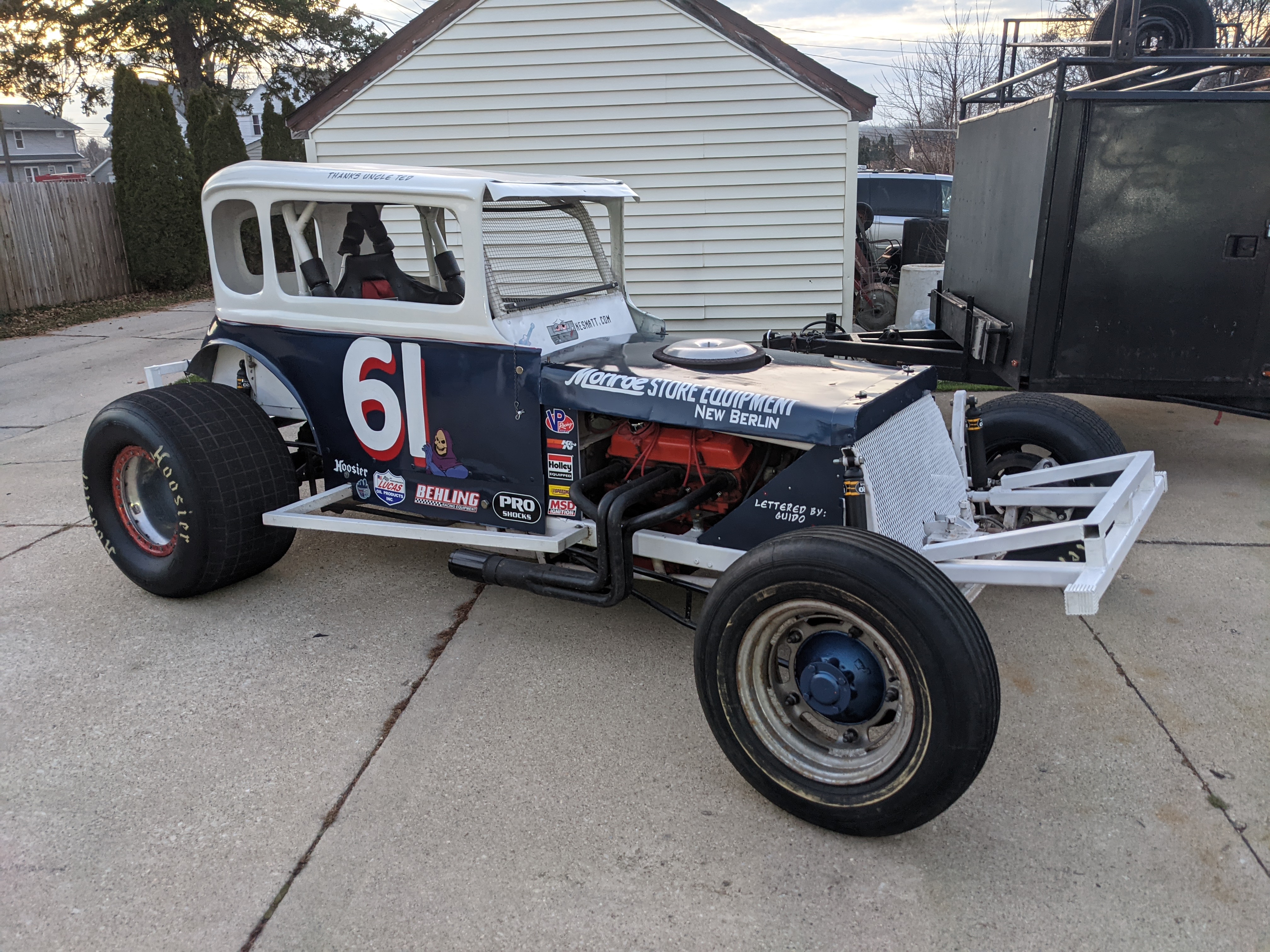 #61 Matt "Skelator" Schellinger South Milwaukee, WI
Second generation race car driver.
Occupation: Owner/Operator of a video game repair business.
Paint scheme modeled after my late father Monroe (Monte) Schellinger's stockcar
Ford Vicky bodied Small block Chevy vintage modified.
 

#62 Bob & Sara Brion Plymouth, WI

Pogo chassis, built for Eddie Grober and later sold to Jim "Cricket " DePagter, who we bought it from in the 90's . We have had several drivers in the driver's seat of this car. Bob is the current driver. Gary Laack, retired from racing last drove this car. Past drivers are Billy Kreutz (#93) and Donnie Goeden even took a few turns behind the wheel.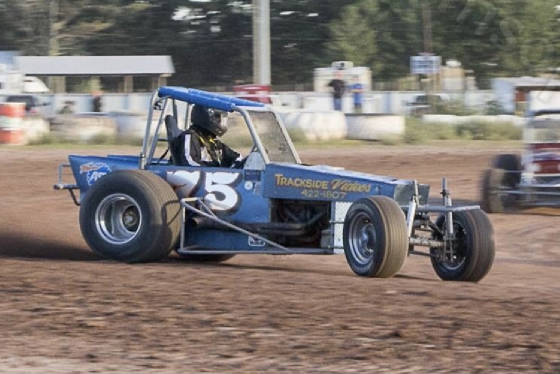 #75 Jeremy Allard Ringle, WI
Built in 1975 by Ken Monroe and Mike Neary. The car was mainly raced at Wilmot, WI and Waukegan, IL. Powered by a small block Chevy.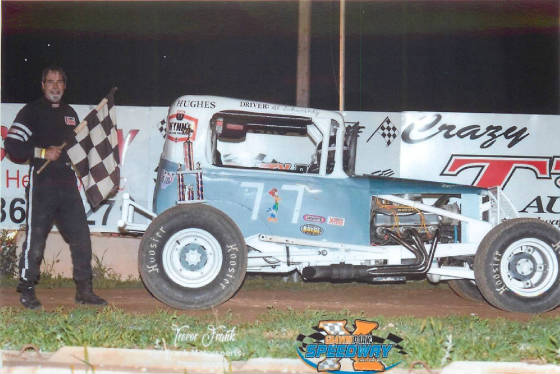 #77 Mark Trapp Horicon, WI
1932 Chevy Coupe built on a Model A frame. 350 Chevy motor, 400 hp with 1940 Ford transmission. 4:86 Coleman quick change rear end. Wilwood disc brakes.
I've been around racing most of my life. My dad, Don Trapp raced. My grandpa, Jim Trapp raced. I found that Brian Titel had my Uncle Al Schwantz' car - the #77 modified. Bought it from Brian and had it restored to race-ready for the track. I'm glad to put my uncle's car back on the track for the fans to see.